Karen S. O'Connor, CPA - Manager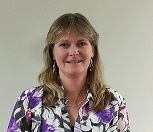 Karen is a CPA with over 25 years of experience in the small business industry. She provides accounting, tax, bank financing and individual and business planning for her clients. She specializes in multi-jurisdictional business with knowledge in multi-state taxation. She has been with the firm since 1981.
She graduated from Cleveland State University in 1992 and is a member of the Ohio Society of Certified Public Accountants. Karen's interest are swimming, golfing, skiing and spending time with her family.